Welcome to the next generation of e-scooters — the Hyperscooter.
The Dragonfly Hyperscooter is more than a scooter with 4 wheels. It's the urban transportation of the future.
The result of 5 years of engineering, prototyping and testing, the Dragonfly is the only urban transportation to feature the patented first-of-its-kind Full Tilt Steering System, allowing you to enjoy a riding experience like nothing before it.
Intuitively tilt the large, stable platform naturally from side to side and carve through the city just like you'd shred down the mountain on a snowboard. Or dial in tighter moves with the added manoeuvrability of the ergonomic handlebars. The choice is yours.
This is not an e-scooter. This is a Hyperscooter. This is Dragonfly.
The modern city has more obstacles. More traffic. More people. More dangers. And it seems that no matter who you are, you're forced into the same tight spots, as the daily rush hour grows ever busier.
But the modern commuter like you is more demanding and is not satisfied by even the best vehicles from past centuries. 
The Dragonfly Hyperscooter is the future of urban transportation. A super light and sleek electric vehicle that takes flight through the urban jungle. The refined vehicle for the modern urbanite. The sleek and elegant cruising machine that will turn heads and part the crowds. The platform that will allow you to glide effortlessly through busy streets.
You'll wish you lived further from the office as you power through traffic and weave past pedestrians at speeds of up to 25 mph (40 km/h) — enjoying a completely reimagined riding experience.
Just lean in and enjoy your next big adventure!

The Dragonfly Hyperscooter's unique wide 4-wheel carbon fiber platform offers unparalleled stability and safety when tackling the modern urban landscape.
Move fast and weave tightly thanks to Dragonfly Hyperscooter's ultra-low center of gravity and the most stable yet agile platform on the market.
And unlike any 2-wheel vehicle, even when you feel like slowing to a stop, you never have to put a foot on the ground.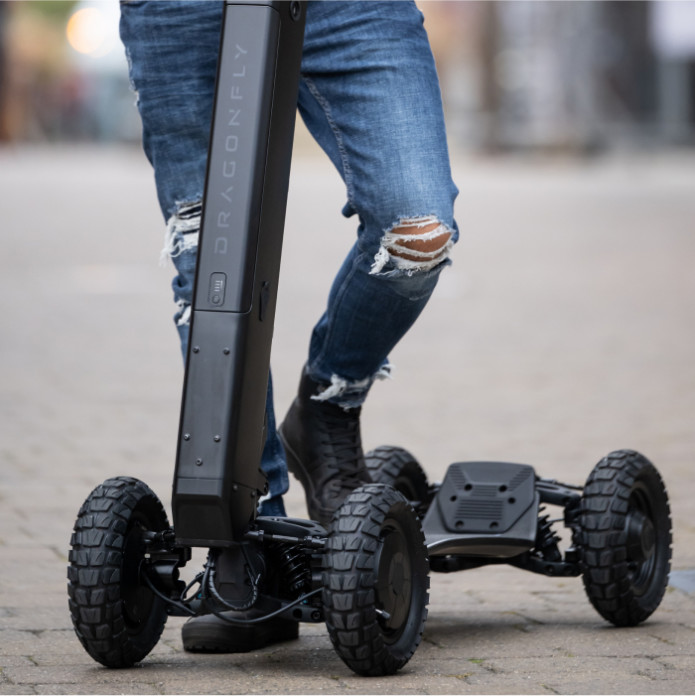 Designed from the ground up, the Dragonfly Hyperscooter's patented 3-Dimensional Full-Tilt Steering System is a revolutionary and intuitive way to steer by engaging all 4 wheels at once.
You can steer as usual by turning the handlebars… but once you go Full-Tilt, you'll never look back.
With total control over your Hyperscooter's steering behavior, you can carve through busy streets like a snowboarder shredding down a mountain, or lean in on slow turns to achieve the tightest 45° turn — something unheard of on any other urban vehicle, scooters and cars included.